Transportation is an important link connecting cities and blocks, and also an important channel for transporting people.transportation has a decisive impact on the development of a city, So as the zabra crossing works in urban transportation. And when people awaiting at the crossing,everybody should care about the cross line to guarantee the safety. So there is something to assistthe traffic safety.  

It is reported that one of the ground gobo projection lights apply of the intersection improvement project is designed and introduced by the Pagoda Tree Traffic police of shandong province. Its shape is the first ground pattern projection lamp device used at a junction in Jinan. With the core text content, supplemented by the spring standard and other artistic elements with Jinan characteristics, it guides non-motor vehicle traffic participants and civilized cycling.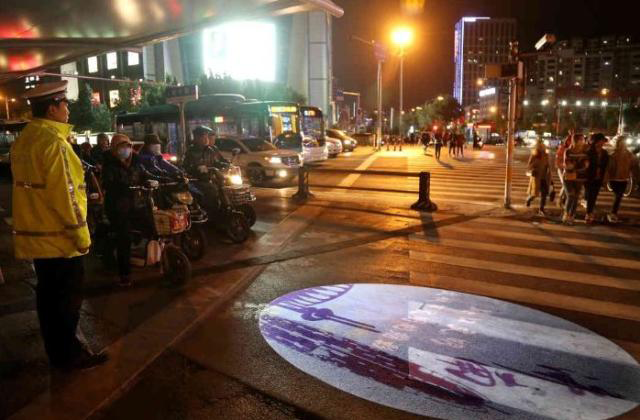 We may learned that many citizens have seen the ground gobo projection lights in some commercial places, and this gobo projector shooting on the zebra crossing is the first time to be seen, with novel and cool art images, attracted many tourists to come to "punch in".  and the gobo projector is smart to change with the tempo of the crossing light at some project. Like when it's come to GREEN light, the projector could turn off, and when it come to RED, the projector light on.
When night falls quietly, the ground gobo projection lighs also works on time, alerting citizens to travel in a civilized way.  And the non-motor vehicle cyclists, neatly wait in the non-motor lane stop line.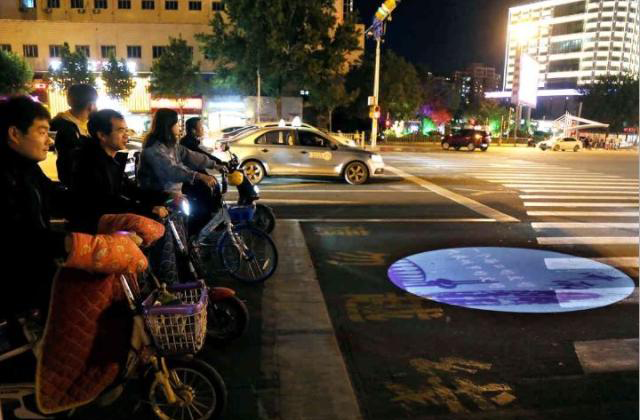 At present, the west section of the tenth Road are respectively equipped with "literary and artistic style" of the ground gobo projection lights, the intersection of traffic civilization concept clever into it, guiding the public to further enhance the intersection civilization literacy, further polish the new business card of Jinan intersection traffic civilization.  

The text "details at a zebra crossing represents the civilization of a city" is not presented in the way of signs or spraying, but in the way of gobo projector are similar to famous scenic spots and cultural landmarks. The images or texts on the ground are presented of its culture by ground gobo projection lights. it's tremendously creative action in Shandong China by using these gobo projectors. It has not only won the praise of local citizens in Jinan, but also quickly triggered the upsurge of foreign cities to visit and learn.