Building advertising projection lamp is a new way of building advertising. The building advertising projector uses a high-power projector to project the advertising content to the outside of the building to form colorful advertisements. After continuous development, building advertising projectors have become more and more popular. Now building advertising projectors have also been recognized by more advertisers in the field of outdoor advertising. The followings are some of the advantages and disadvantages of building an advertising projector:

1. Shenyang Vienna Hotel Building Logo Advertising Lighting Projection:
this case is a building advertising projection projects done by our company in June this year, and the location is in Shenyang Vienna Hotel. We have received an inquiry from Mr. Liang from Shenyang at the end of May this year, who wanted to project the company's name "Vienna Hotel" on the exterior wall of the hotel. Through our calculation of the on-site environment and projection angle, we recommend a 200w high-power building advertising projector. Our company will engrave the "Vienna Hotel" content that the customer needs to project on the lamp sheet by customizing the projector. Then we adjust it according to the angle adjustment principle. If there is no problem with the test, we will directly ship the lamp as soon a possible. After receiving the goods, the customers don't require to debug.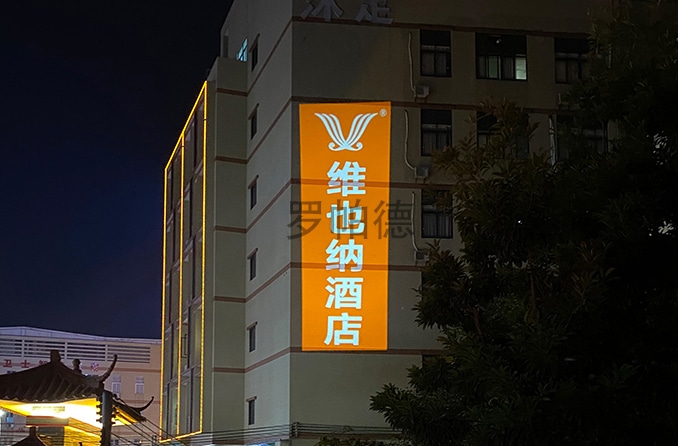 2. This project is the hotel projection. The original intention of the customer is to look for a building advertising projector that can replace luminous characters, but what the customer wants is to project the advertisement on the building of the hotel in the form of luminous characters. In this case, we recommend a 500w high-power building advertising projector to the customer by the combination of lamp and projection. The hotel's name "Jietang Theme Hotel" was projected on the exterior wall of the hotel, forming a height of 10 meters and a width of 2 meters. The project uses a 6 500w building advertising projector to complete the large-scale building advertising picture.
Learning more about the building advertising projector, please get in touch with us!